In late 2018 I decided I wanted to start a blog about gin. I liked gin, I liked writing and I wanted to learn something 'techy'. So starting a blog would be easy, right? Well, this is my real blogging story and what I've learned about how to start a blog in 13 steps…
Why do you want to blog?
What's the blog idea?
How to choose a domain name
How to choose a hosting platform
How to set up a blog
Make money blogging
Building your blog content
Keeping it regular
Using social media to promote a blog
Five things you should know about SEO
Keeping track of a blog
The early months
Tell me again…why do you want to blog?
1. Why do you want to blog?
Stop. As an eagle-eyed reader you'll have already noticed that steps 1 and 13 of this article about starting a blog are essentially the same. That's because, if you can't articulate in one sentence why you want to blog, then you probably shouldn't start.
Tough love? Nope – just honesty. If you want to be a successful blogger you need to stick at it. To stick at blogging, you need to enjoy blogging.
So, back to the question – why do you want to blog? Is it because you enjoy writing? Are you blogging to share your passion for the chosen subject of your blog? Do you want to make money blogging?
Blogging 101 – if you can't honestly answer why you want to blog – and aren't prepared to devote time and energy to blogging – stop now until you can.
2. What's the blog idea?
Simple question. You know you want to blog, but what are you going to blog about? Is it a passion? A particular product or service you like?
If I've learnt one key thing that's kept me blogging for a year so far, it's that it's far easier to blog about something you're genuinely interested in. To be frank, I've learnt more about gin by blogging about than I could possibly have hoped to do so from just reading about it.
Don't feel that you necessarily need to limit yourself though. After all, I could just have decided to blog about Scottish gin since I'm Scottish and love gin. Blogging about gin more generally has allowed me to have a greater range of possible blog topics.
The key simple message here is to have a good think about what you enjoy, and what your blog is going to be about.

3. How to choose a domain name
Motivation on blogging clear. Check. Good blogging idea sorted. Check. Now comes the fun. You get to choose you name; your brand, if you like. First up, I'd suggest that you secure yourself a good domain name. This is the address of your blog website. There's a lot of guidance out there on choosing a good domain name. However, central to most of it are some key factors:
Choose a short domain name. Single real word domain names are almost all gone (which is why you see so many spelling variants of words for new businesses wanting short names).
Choose a name that's relevant to what you're blogging about. You'll see that, for a gin review website, I went for whichgin.com. I also own whichvodka.com and whichrum.com. Although they haven't launched yet, you can see my strategy here and already tell what content they might have!
Choose a domain name that's easy to spell. If your content is good, and ranks well on search engines, people will still click on links even if you have a weird domain name, but you'll likely lose direct traffic.
Take your time. Make sure you're happy before buying the domain name. If you're going to use social media, are the same @names free that you can use?
The extension is important. This is the .com, .co.uk, .net etc. There are lots to choose from now. Although .com is still seen by many as the best one, don't be afraid to consider others. Some extensions are restricted by location or business type though.
Is the domain name you want available?
To see if a domain name is free for you to buy, you can check on many hosting sites. Here's where you do that at GoDaddy (the one I used). Type in the domain name you'd like and see if it's free. If it's not, it'll highlight similar ones that are.
Many domain names are available to buy for just a year (and you can set them up to auto-renew). Often, however, you might get a deal to register it for longer. You can spend as much or as little as you like. My ones were all relatively cheap (we're talking about £15/$25 averaged over two years).
4. How to choose a hosting platform
Buying your domain name is just the start. You then need to decide where to host your platform. This is where, for the novice, sites like GoDaddy are excellent. You can buy your domain name, host your site and integrate blogging platforms like WordPress (see below) really easily. We've also heard good things about HostMetro, so check them out below too.
It's all quite intuitive through the buying experience, so don't be scared off. I'd never blogged before and was up and running very quickly with my website. The online and phone support has also been very good.
Hosting costs
When setting up, costs can escalate quite quickly, so do watch. Your hosting will cost money each month (usually paying in a lump sum in advance is cheaper – budget £10/$15 a month over the course of your agreement for a very basic service – the monthly costs you see often increase after year one.)
Email account costs
You may also like to buy a linked email account for your website. I did that, so that I could have the contact@whichgin.com email address. It does help your readers if they know how to contact you (rather than just using a submission form on your site – I get far many times more emails than I get submission forms). Budget about £5/$8 a month for that.
Security costs
You'll also likely want to buy an SSL certificate. Without getting technical (because I'm still not sure I fully understand it myself!), this means that your website becomes https (not http) and you get the padlock sign that you can see in your browser for this site. This gives readers the additional comfort that it's a secure site. This is important if you plan to sell anything on your website. I've also read that this may also help your search ranking on search engines too (although can't confirm that). Budget another £5/$8 a month for that over the life of your site.
I think, realistically, each site I have costs me about £200/$300 a year all in. There are certainly cheaper alternatives out there – a quick internet search will show you more than I can list here – and don't feel that you have to gold plate your first blog site. But do be wary of low initial prices that escalate up over the course of your agreement.
5. How to set up a blog
First things first, you should ensure that you get a good creation tool for your website. I use WordPress for mine – you can see what they offer on their site below. Hosting sites like GoDaddy can integrate with WordPress, so it makes your blogging life very easy. I can log into my blog via WordPress or GoDaddy to create content.
You can use of of the free layouts on WordPress or choose to buy a different, more advanced one. These have more features and offer interesting layout options. I use MH Themes for this website. It cost a one-off payment of about £70/$100. I think it's worth it to make the site look more appealing (I'll let you be the judge though!) What it also does is allows you to easily update your pages and posts.
Don't be scared off by the actual design element of your website. I've found that using WordPress is very intuitive. Also, if you pick a good design theme (like MH Themes) then it makes life very easy. You can drag and drop sections, create posts easily etc.
Click here to look at some MH Themes you could use for your website
6. Make money blogging – find affiliate marketing agreements
Do you see what I did there? I wrote a title that's supposed to capture your attention (just like this article's title). If you start a blog get used to that, and to the myriad of get rich quick blogging programmes out there that you'll see near the top of search engine results. You'll see them straight away, as they're almost always in italics for some reason : "How to make $10,000 a month blogging!" or "Make £5k a month of passive income for no work!" That sort of thing.
It's all nonsense, of course. By signing up, all you're likely doing is paying the person who signed you up a commission. And the big reveal will be that, by selling this amazing programme to others, you'll get rich via commissions too. If that's your thing, feel free, but it all sounds a bit much like pyramid marketing ('multi-level marketing') to me, so I stay clear. You only get rich if you're near the top of the pyramid.
Ethically make money from blogging
If you do want to monetise your blogging, the real (and more ethical and reputable) affiliate marketing programmes worth investigating are those that provide you with a commission payment when a visitor to your site clicks on a link and subsequently buys something within a certain timeframe.
Have you seen all the links and ads I've peppered throughout this article? Those are the affiliate links. They can be product images, banners, text, animated, not animated etc. Here's some examples:
I like to make sure that I only include links on a website that are relevant to my readers. This is a gin review website so, for example, this is a simple text link to a bottle of Brockmans Gin on Amazon. Click on that link and it takes you to direct to that product on Amazon.
And here it is an an image (with its price):
If you click on either it does exactly the same thing: buy something within the next 24 hours and I'll get a small commission. It doesn't cost you any more by the way, so please feel free to 😉
Of course, you need to sign up to affiliate marketing programmes. As a blog writer, you're usually termed a 'publisher'. The firms (usually called 'advertisers', 'merchants' or similar) will want to be sure that your blog content is relevant and aesthetically pleasing.
Sign up for the Amazon affiliate programme
There are some very well-known single company affiliate programmes – Amazon is probably the best known (see the "Amazon Associates' link at the bottom of the Amazon homepage). The link I've used there is to the UK programme, but there are versions across the globe in various countries (this is the US Amazon Associates programme, for example).
Amazon is a great programme for many reasons, and a really easy one to start with. There are couple of things to note. Amazon ask that you to get three qualifying purchases made in the first three months. That sounds easy, but traffic to a new website (and clicks on your links) can take time.
Make sure you have good, pre-written content to post on your site when you start. In fact, you really need this content posted on your website so you can start adding the Amazon links.
Amazon pays a varying percentage for qualifying sales made within a 24 hour period after someone clicks on your link (this period is called the cookie length). For example, I would get 5% commission if someone buys a bottle of gin within 24 hours of clicking on any Amazon link on this website. I may get less or more depending on the category of the product bought, but the good thing is that Amazon pays out on most items people buy.
Interestingly, you can also see what people have bought (not who, or where in the world, just what). My favourite to date has been the purchase of a packet of emergency underpants. Glad to know my gin reviews have such an impact!
Sign up for the other affiliate marketing programmes
Most affiliate programmes aren't for single firms like Amazon, and instead come under umbrella programmes that the advertisers themselves sign up for. This allows the advertisers to have their programmes managed elsewhere, but still allows them the control to set their own commission levels and cookie lengths.
I've gained experience of working with quite a few advertisers who use these programmes now. For example, in Scottish gin reviews, I might offer links to relevant gins using Next Day delivery for Drinks Gifts across UK with 31DOVER.COM.
It uses Rakuten Marketing to manage its programme. An advantage of using these programmes is that you can have professional links on your website that enhance its appearance.
Adding these links to your website is relatively easy – usually as simple as cutting and pasting some code. As noted though, I try to keep my links relevant to my content. For example, if I'm writing about Scottish gin, I might add a link to a Scottish gin supplier I like and trust. For example, I really like Craft56, who have a fantastic range of the more difficult to find Scottish craft gins. I can link direct to the product, or have a more general link like the one below.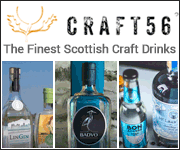 It didn't take me very long to build up a range of affiliate agreements that would give me the relevant product links that might make the site make some money. The slightly frustrating point is that the advertisers you'd like to work with may well be on different programmes. You'll therefore have to sign up for all the ones that you want to work with. For example, I also like Master of Malt as a supplier – I've always had a good buying experience with them (as has everyone else I speak to). So, if my blog post is about a gin they have in stock (they have a huge range) I'll usually add a link to them too.
It's not too complicated to set up affiliate links in overseas countries too. Although I'm based in the UK, I found a great drinks delivery partner in the US called Drizly that could supply many of the gins I was reviewing. It has good reviews from its customers, and the wide range of gin at Drizly and good US and Canadian market coverage makes it an excellent partner for this site.
So, if you want to start a blog to make money, make sure you build up your affiliate agreements with a range of relevant publishers that you feel comfortable recommending and get linking to them.
I won't write here about how much money you can make from blogging, but I would urge you not to give up the day job until you're established and earning. Making money from blogging is not quick, nor is it easy (despite what those get rich quick adverts suggest!)
Trust me though, when you get that first commission payment from a click and sale it's a great buzz, and I'm certainly not tiring of it! If you did start a blog to share what you love, it makes it even more rewarding.
7. Building your blog content
To start a blog you need content. Don't fall into the trap of starting a blog without it. Original content that builds your readership is what you need. Make sure you write it or nobody will visit!
Confession time. I made a mistake when I set up my first blog – I was impatient and only wrote a few articles before setting it all up. I would recommend you have no fewer that 20 articles written before you start your blog. Why?
Get Extra 10% OFF on PureVPN Subscriptions | Coupon Code: 10off
First up, in the early stages, each article will take you some time to build. By 'build', I'm not talking about the actual content you write. I mean the links you add, how you structure it visually, what photo you add to it etc. I spent an age on my first few articles just getting them looking nice, and this took me completely away for writing any more articles!
That's primarily why I recommend you spend some quality time up front writing the content. It's taken a while – and a lot of drinking – to have as many gin reviews as I've now written and collated here. I actually wish I'd written more of them offline before starting my gin blog for the reason above.
Another good reason though is that search engines appear to like regular content. Having a good amount of articles in the bag before you start out can help relieve any pressure you might feel down the line.
Blog length
It's entirely up to you how much content you write in a blog article. When I started out, I thought that they would need to be quite wordy, and aimed for quite long articles. However, I now mainly write gin reviews that are about 600-1,000 words in length.
I might write slightly longer articles on a bigger subject (like I did for a feature on Isle of Man gins), or indeed this article itself on how to start a blog. However, think about your readership. Are they people who like a weighty article full of content, or are they more likely to lose interest with that approach?
I have read that you should have some longer articles (2,000+ words) on your blog to build your presence online. However, I'm yet to be totally convinced that a longer article equals greater readership, so that's why I've settled on a blog post length that seems to work for gin reviews. I could write more detail, but the relatively short reviews covering some background to the gin, what it tastes like, how it can be served and where to buy it seems to attract readers.
My top tip is therefore to experiment with your blog post length to build your readership. You'll soon be able to see which blogs are most popular.
Blogging style
There are a number of blogs I follow (and online newspaper reporters too). When I stepped back and thought about it, I realised that I followed them because they offer a consistent style of content. What do I mean by that?
Well, although the blog topic changes, the blogging style does not. I like that the political blog I follow remains detailed and thought-provoking, or that the sports blog I follow remains light-hearted. I feel like I know the authors and want to read more.
When you start a blog, think about the image you're trying to portray. Are you an ultra-professional expert, a fun-loving irreverent commentator, or…what? What can your readers expect? Pick a writing style and stick to it. If I was to recommend anything, it's that it's easier to be yourself than pretend to be someone else.
For the record, I try to write my gin reviews in a helpful way, but try not to be too serious with it. Others might, but I don't read any gin reviews myself that tell me what I should be doing and what I should be thinking. We all have individual tastes after all.

8. Keeping it regular
I won't labour this section, but discipline is a key word if you want to start a blog. That's why you'll be more likely to succeed if you've chosen to start a blog on a topic you're genuinely interested in.
I don't blog about gin for a living (I have a full-time day job) so aim to post one blog article a week. That's a comfortable frequency for me, and it means I don't feel under any pressure to continually be writing. I also have to arrange to drink and review the actual gins before I blog our collective findings, so that's a limiter too!
I timetable my blogs and know what I'm going to be reviewing and writing about next. Have a good think about what frequency you can realistically achieve for your blog and stick to it. Don't be over-ambitious and end up losing heart, or be so infrequent that you lose interest and momentum.
Location can be important too. I've found that I tend to write my blog posts in my home office where I feel most comfortable. That consistency of location seem to help me be more productive as I know I'm sitting down to write. We're all different though, so you just need to find out where works best for you.
Look. We all know the importance in life of keeping it regular. Maybe that's where those emergency underpants come in…
9. Using social media to promote a blog
I'd recommend that you use social media to promote your blog. Social media accounts can really help drive new, and very relevant, visitors to your blog. I've really only scratched the surface, but here's what I've learned:
Instagram is great for engagement with like minded-people. I've really enjoyed being part of the gin community since deciding to start a blog about gin. The only drawback is that you can't link back on your individual posts to your blogs – you can only have one link on Instagram (in your bio). People that use Instagram seem very relaxed and welcoming, perhaps because they're genuinely interested in what they're following.
Twitter is good for being able to link back to your individual blog posts. However, although I've 'met' lots of really good people on Twitter and get good levels of engagement, I do find that it's harder to gain traction there and have generally switched more to Instagram since starting.
Facebook isn't something I've used yet. I do hear that it can be quite a good platform for engagement, but I left Facebook following the Cambridge Analytica scandal and have no intention of returning.
If you're using affiliate links in social media posts, or were gifted a product to review or talk about, remember to signpost that. The normal 'etiquette' is to add something like '[Ad]' or '[Gifted]' to your post. It does annoy me when I see a post that's clearly an advert that isn't flagged as such. It undermines your credibility and is legally questionable too.
Be a bit careful with social media. It's great for getting some awareness for what you're doing, but it can also be a time-hoover. Remember that blogging timetable! Do make time for engaging and building your audience, but make sure it doesn't take over.
Don't buy likes either. Trust me, if you have an email address, you'll be approached to buy likes on social media. I've actually just had an email about this as I write this article. Apparently I can buy 800 likes on Instagram. Pathetic in my view, and actually a little sad.
It's also worth noting that, although using social media can give you an immediate boost in visitor numbers, it's unlikely to drive a huge portion of the visitors to your site. For that, you need to think about SEO…
10. Five things you should know about SEO
Get used to the term SEO (Search Engine Optimisation). You're going to read a lot about it. SEO is all about how you get your blogs (and website) to rank on search engines. The better your SEO, the better you rank and more likely people are to find your content. But…it's a bit of a dark science.
No-one really knows for definite how to get up the rankings on Google, Bing and other search engines. It's all based on proprietary algorithms. There is help out there to help you optimise your blog content though. SEO PowerSuite is one that you can try via the advert below:
Here are the 5 things you should know about SEO that I've figured out since deciding to start a blog:
Give your blog an interesting title. I'm not a huge fan of 'clickbait' blogs like "Look at how XYZ celebrity looks now" but, let's be honest, people do click on those.
Give your blog a relevant title. You won't be found if you don't. It's why I give my regular gin reviews a fairly simple title, "abc gin review". Think about what people type into their search engine when they're looking for an article. Read up on long-tail keywords.
Including numbers in a blog title works well. Odd numbers seem to work better. I've no idea why! My best ranking page of all time has been the 5 best gins to drink neat.
Build good links back to you blog content/website. Called 'backlinks', these are links on other websites that point back to yours. Search engines like these. I've seen my content get a lift up the rankings when others have linked to me. There are some dark arts here. You could pay people to write backlinks, but the search engines are wise to this. I'd recommend you just build them naturally by writing good content – others will link back to your content if they like it.
Paid traffic vs. organic traffic. At this point, I've only ever built organic traffic (i.e. my blogs rank based on their relevance to the search term someone has typed in). Paid traffic isn't a bad option if you want to build your blog a bit more quickly though. I'll update this blog to tell you the impact if I do…

11. Keeping track of a blog
When you start a blog, it's good to know what's working and what's not. Which blogs are your readers really engaged with?
The good news is that it's relatively easy to do. Google is still the daddy of search engines, and Google Analytics is how to track how your blog and website traffic is doing. I'll not replicate all the instructions here but, when you start a blog, make sure you add the code you need to to start tracking traffic. It's not difficult to do, and is much easier if you do use a theme on WordPress like MH Themes. You can also easily add tracking code for Bing and other search engines too.
All this gives you really good insight into how your blog is performing, where your readers are and what actions they take on your site. To be honest, you could spend hours analysing your traffic. And it's really interesting to see too.
As noted above, the top performing blog post on this site is about neat gin. However, you'll also likely find that your home page gets good traffic too. Occasionally you might get an odd blog post taking off too in terms of readership. That can often happen if someone else has linked to it.
A recent example I had was when a blog review of Panda Gin – a Belgian gin we'd really liked – had a spike in traffic. It turns out the distiller had sent out a link to our article in their newsletter and added a link to it on Wikipedia.
It's well worth keeping an eye on your traffic to see what's working. Also, if a blog post has really taken off, you might want to make sure that it's still accurate and up to date.
12. The early months – don't lose heart
Ok. Time for more honesty. It can take time to really get traction when you start a blog. All I can say is don't lose heart. Keep at it and persevere. I've seen various articles suggest that it can take 3-6 months to start getting any sort of traffic to your blogs and website. That was certainly my experience too. Do the right things, write good content, and that traffic will come.
Trust me on this, make sure you celebrate the small early successes too. They keep you going early on. For me, these were very simple things:
The first time that I got a comment on a blog I'd written.
The first time I made a commission from a sale (which was, randomly, when someone bought an enamel tractor keyring from Amazon – I have no idea why!)
The first time I made a relevant sale on each affiliate website!
The first time I saw a link back to my blog
When I first got free gin sent to us for review
So, the main advice here is to keep going. And hope that people still want to buy enamel tractor keyrings like the one above! 😉
13. Tell me again…why do you want to blog?
Well, you want to start a blog because of the reason you said in step 1. Go on. Get started. Share your passion. Have fun, enjoy it and the very best of luck with it!
I'm always happy to share what I know, and to keep learning too, so please do get in contact if you'd like to. You can find me at contact@whichgin.com or via the comments below.
Best wishes,
Andy, Founder www.whichgin.com